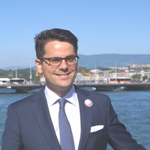 ALEXANDRE GAILLARD
Alexandre is CEO and founder of InvestGlass SA – the first swiss robo-advisor for wealth managers. He co-founded and is acting as Vice President of the Swissfintech National Association, gathering around 2000 members.
He previously worked as head of equity sales at Union Bancaire Privée, as an Advisor / senior private banker at Bank of China and as a Portfolio manager at Levitt Capital Management. 
Alexandre is a board member of the Swiss Chinese Chamber of Commerce and speaks fluently French, English and Chinese mandarin. 
He is keen to share his experiences with new fintech entrepreneurs.