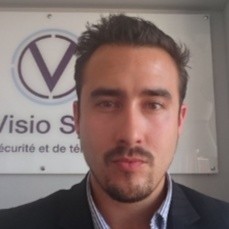 Antoine M.
Directeur Commercial & Développement - intégrateur de systèmes de sécurité
Marrakech, Marrakech-Tensift-Al Haouz, Morocco
Connect Connect with Antoine M.
english version :
After my studies, I went to the armed forces allowing me to shine on differents battlefields between 2007 and 2014.
After this almost 8 years I have been medaled several times and I acquired a great experience in leadership, as well as practical and theoretical knowledge.
This will have allowed me to leave Intelligent Services as experienced team leader in Electronical War.
After this wonderful experience, I expatriate in Morocco where I was in charge to restructured and managed 80 security agents for the ES SAADI RESORT PALACE in Marrakech, as deputy security coordinator.
Then I contributed as security consultant in freelance (security of electronic systems) to the creation of a national security structure in Mali, Bamako.
Now I'm working for Care Visio Systems
as commercial director, where I can learn and apply my knowledge. CVS
is one of the leader in the integration of security systems on national and international scale.
Experience
Care Visio Systems
Directeur technico-commercial
Company NameCare Visio Systems
Dates EmployedMay 2016 – Present
Employment Duration2 yrs 9 mos
LocationPréfecture de Marrakech, Morocco
Care Visio Systems
c'est plusieurs domaines maitrisés :
25 années d'expérience à l'international dont 20ans pour le ministère des affaires étrangères Français
Intégrateur de systèmes de sécurité, sûreté, télésurveillance, contrôle d'accès, portes & sas blindés, ...
Sécurité incendie et remise en conformité SSI (base R7 APSAD)
Bureau d'Etudes-Sécurité/sûreté.
Domotique professionnelle.... See more
+7
Security Premium P. SARL
Co-fondateur
Company NameSecurity Premium P. SARL
Dates EmployedFeb 2016 – Apr 2016
Employment Duration3 mos
LocationPréfecture de Marrakech, Morocco
Co-fondateur de Security Premium Prestige.
##### ######## ######
Consultant sécurité electronique et coordination sécurité
Company Name##### ######## ######
Dates EmployedDec 2015 – Feb 2016
Employment Duration3 mos
LocationCôte d'Ivoire
############################
#########
Consultant sécurité électronique
Company Name#########
Dates EmployedMay 2015 – Nov 2015
Employment Duration7 mos
LocationMali
######################
Es Saadi Marrakech Resort
Coordinateur Sécurité adjoint
Company NameEs Saadi Marrakech Resort
Dates EmployedJan 2015 – Apr 2015
Employment Duration4 mos
LocationMarrakech Prefecture, Morocco
Mission de restructuration des protocoles de sécurités du site.
Chargé de 80 agents de sécurités sur site.
En charge de la sécurité de Hugues Laurie lors du tournage du film "The Night Manager".
En charge de la sécurisation du 1er World Series Of Poker (WSOP) au MAROC et en AFRI... See more