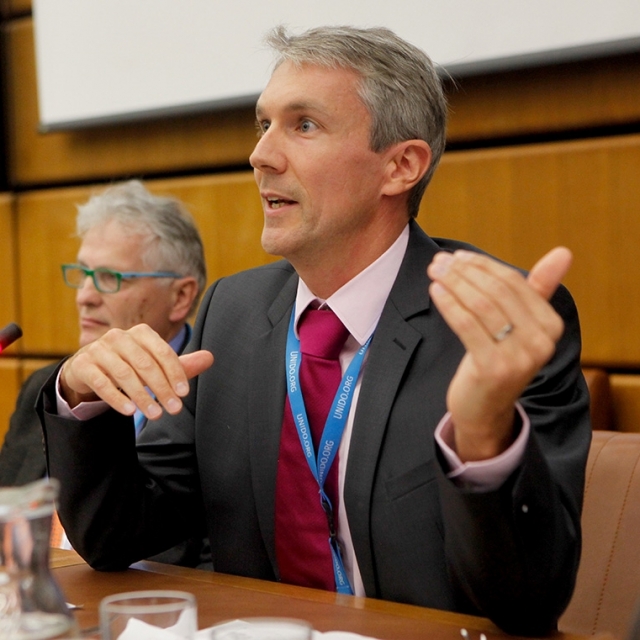 Industrial Development Officer, Emerging Compliance Regimes Division, Department of Environment
United Nations Industrial Development Organization (UNIDO)
About
Mr. Jerome Stucki is a Project Manager at the United Nations Industrial Development Organization (UNIDO) overseeing an Eco-Industrial Park (EIP) project in Vietnam. The project applies UNIDO's approach to retrofitting existing industrial zones into EIPs. In line with UNIDO's mandate, the approach is based on inclusive and sustainable industrial development, delivering economic, environmental and social benefits to reduce poverty. Mr. Stucki also manages projects on corporate social responsibility in Vietnam and China. More recently, Mr. Stucki designed and implemented interventions related mercury and in particular, artisanal and small-scale gold mining. Prior to joining UNIDO, he worked in the private sector providing technical services such as environmental investigations, baseline studies and impact assessments for various industries. Mr. Stucki holds a Master of Science in Earth Science from the University of Lausanne and a master of advanced studies in Hydrogeology from the University of Neuchatel.
Jérôme Stucki
Industrial Development Officer at UNIDO
Austria
ortfolio manager for UNIDO multilateral cooperation projects focusing on mercury related issues under the Minamata Convention or industrial resource efficiency for developing countries and countries with economies in transition and in partnership with the private sector. UNIDO Focal Point for the artisanal and small-scale gold mining sector.
Recent projects include:
- National Action Plans for the artisanal and small-scale gold mining sector (Burkina Faso, Ecuador, Mozambique) and GEF GOLD projects in Burkina Faso, Mongolia and the Philippines
- Eco-industrial park project in Vietnam.
Main financing institutions are the Global Environment Facility (GEF) and the Secretariat for Economic Affairs of Switzerland (Seco)
Formerly working in the private sector as hydrogeologist focusing on industrial contaminated sites.
Working experience in Africa (Algeria, Burkina Faso, Mozambique, Senegal), Asia (Cambodia, Mongolia, Myanmar Vietnam), Europe (including Turkey and Armenia), Latin America (Costa Rica, Ecuador), and Middle East (Yemen).
Experience
UNIDO
Industrial Development Officer (Project manager)
Company NameUNIDO
Dates EmployedAug 2010 – Present
Employment Duration8 yrs 3 mos
LocationVienna, Austria
Development, implementation as well as monitoring and evaluation of technical cooperation projects focusing on water resources, with an emphasis on groundwater protection and remediation of contaminated sites.
GEOS ingénieurs conseils sa
Hydrogeologist - Project Manager
Company NameGEOS ingénieurs conseils sa
Dates EmployedJan 2006 – Aug 2010
Employment Duration4 yrs 8 mos
LocationLausanne Area, Switzerland
- Technical investigations and remediations of sites contaminated by industrial activities
- Field missions in the Middle East for Environmental Baseline Studies for oil and gas companies and groundwater management... See more
Centre for Hydrogeology - University of Neuchâtel
Scientific collaborator
Company NameCentre for Hydrogeology - University of Neuchâtel
Dates EmployedJan 2005 – Dec 2005
Employment Duration12 mos
LocationNeuchatel, Switzerland
- Organization and supervision of technical investigations of a chemical industry landfill in Valais, Switzerland
IHS Energy
Midstream analyst
Company NameIHS Energy
Dates EmployedJun 2004 – Dec 2004
Employment Duration7 mos
LocationGeneva Area, Switzerland
Validation and updating of a midxtream database and expansion of the database to include potential downstream users
Education
Université de Neuchâtel
Université de Neuchâtel
Degree NameMaster of advanced studies Field Of Study Hydrogeology
Dates attended or expected graduation 2001 – 2003
University of Lausanne - UNIL
University of Lausanne - UNIL
Degree NameMaster Field Of StudyEarth Sciences
Dates attended or expected graduation 1996 – 2001
Activities and Societies: PANGEA